Follow the Everglades Trail to explore the natural wonders of this international treasure. From Florida Bay north to the headwaters in Central Florida, you will find sites that provide accessible opportunities for you to enjoy the beautiful public lands of the Greater Everglades Ecosystem. This subtropical region is a remarkable ecosystem with unique plants and wildlife - more than 4 million acres of public lands vital not only for nature but for the water supply for South Florida.

Local, state and federal agencies joined together to create this fun and educational opportunity for public enjoyment of the Greater Everglades Ecosystem. Extending from the Kissimmee River, through Lake Okeechobee and the Big Cypress into Florida Bay, the Everglades Trail provides you the chance to see the Greater Everglades Ecosystem firsthand. The effects of the Everglades ecosystem are felt as far away as the Dry Tortugas and beyond.

On the Trail
Plan your adventure along the Everglades Trail according to your time and interests. Since the trail is not a specific route, you may tour for a day, weekend, or longer. You may want to spend your entire time at one site, or visit several a day.





Canoeing, hiking, biking, boardwalks and trails await you. Experience on your own or on tram or boat tours. You will also find many other points of interest along the way. Interesting attractions and museums offer fun-filled adventures in cultural and natural history.

Each season offers different opportunities. While the summer can be hot and buggy and the winter can be cooler and drier, the rewards of discovery are possible year-round. Please remember to travel safely, bringing along drinks and snacks, bug spray and clothing appropriate for South Florida's frequently changing weather. You may also find binoculars and field guide books useful tools for watching wildlife.

Trail Guidance


Look for the Everglades Trail highway signs along the way directing you to the designated Everglades Trail sites. Each site will have a green-roofed kiosk styled after a native chickee with interpretive signs on the Everglades and information about where you are in the ecosystem. To better plan your time, you might contact a site for more information prior to your visit.

A brochure and map of the trail is available at any of the sites or at Visit Florida (VisitFlorida.com)

Special CD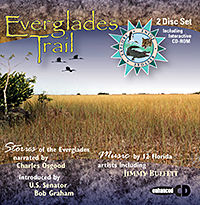 As you drive the Everglades Trail, listen to stories of wildlife and the history of the region. A special bonus CD offers recordings of diverse musical interpretations of the region by Florida musicians, including two songs by Florida's most famous musician, Jimmy Buffett. Look for these CDs at sales outlets located at the participating locations.


Additional Travel Information
For more information on accommodations and attractions in the area, log on to Visit Florida at: VisitFlorida.com
In addition to these gateways to the Everglades Trail, you will find interesting sites along the way to discover on your Everglades adventure.

See You on the Trail
Thank you for visiting the Everglades Trail. Your support for conservation of this region is important to ensure that this international treasure survives for future generations to enjoy.